Course Nr.:    # 10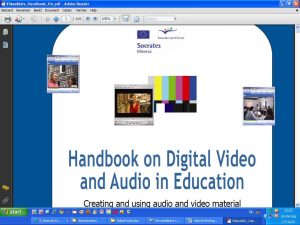 Target Groups:   
Teachers of all subjects in primary, secondary and vocational education
Dates / Venues:
2022:
Amsterdam (Netherlands)
May 1 – 6
16 – 21 October (On demand)
Valencia (Spain) October 23 – 28 (On demand)
Course Aims:
This 6-day course aims to:
further develop relevant teachers competences and confidence  when using digital video in education
promote teacher professionalism in evaluating and selecting available video resources, apps and production tools
develop participants' skills related to capturing, adapting and designing video content and developing related learning activities and materials
 develop participants' skills in video and screencast production for a range of curriculum objectives and contexts from the classroom and forms of blended learning, including flipping the classroom
Methodology
The course activities include demonstrations of useful applications, exemplary materials and teaching practices followed-up with tutor-led presentations and discussions about methodological related topics.
Hands-on activities carried out by participants individually, in pairs and/or small groups include exploring tools,  analyzing video clips and related lesson activities and creating content to be used in participants' personal practice.
To address the anticipated variety in participants' interests and needs (in terms of subject content, tools, pedagogical approach, target groups and individual technology skills level) most tasks are designed in such a way that they can lead to differentiated relevant learning experiences and outcomes
(Draft) Programme
Day 1
Meet & Greet / Introductions
Course overview
Cultural Event
Day 2
 Questionnaire review / finetuning expectations
 Overview of ways to exploit video for teaching purposes.
 Selecting appropriate videos and developing tasks to encourage student engagement and learning
 Reviewing resources for finding & re-using video clips for use in your subject teaching.
Day 3
 Design principles for instructional videos (for content understanding & skills development)
 Exploring Flipping-the-classroom strategies
 Selecting (online) tools to edit video.
Day 4
 Designing interactive video quizzes
 Using videos to provide feedback
 Videos to support analyzing and assessing (21st century) skills
Day 5
Designing tasks involving learner generated video to promote understanding
Exploring video use & production for special purposes & using special techniques (e.g. screencasting, subtitling, green screens, shooting video in 3D environments)
Day 6
Finishing materials & micro teaching unit
Presenting & sharing materials
Briefing on follow-up activities, strategies for further professional development and sharing your know-how & ideas within school
Course evaluation
N.B. Topics for the break-out sessions will be selected on the basis of the availability of invited local or participating expert practitioners related to group interests, needs and negotiated priorities.
---
Click here for the General TELLConsult Course Terms (registration procedures, costs, cancellation, etc…)