Course #12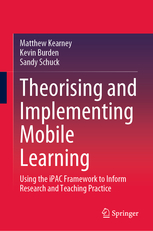 Location / Dates
2022
Krakow
May 15 -20
Leuven (Belgium)
July 3 – 8
Amsterdam
Oct.  16 – 21
Target Groups:   
Teacher educators and teachers working in primary, secondary and vocational education
Aims:
This course is aimed at teachers and trainers who want to increase their own confidence, understanding and ability to use (and train on) mobile technologies innovatively in teaching and learning. The course will enable classroom practitioners to design, implement and evaluate innovative mobile pedagogies, and research the impact on student learning outcomes.
Methodology
Each day will cover a different aspect of designing and evaluating  mobile technologies for teaching and learning. Coursework will incorporate delegates' existing knowledge and experience and provide a helpful learning environment with a balanced mix of theoretical and practical knowledge. Hands on demonstration and interaction with the technology in an international group setting will show the importance of collaboration and shared experience in using technology in education.
Activities and topics include:
All participants will:
Complete a survey to document their current skill levels in using mobile technologies and understanding of their potential value as educational tools
Learn how to use a selection of bespoke survey instruments and other tools to monitor and evaluate the use of mobile technologies in their own classrooms
Experience how to use models and frameworks associated with mobile learning (e.g. the iPAC framework) to inspire them in designing innovative learning activities
Design and evaluate their own innovative mobile learning activity which they test with other participants in the course
Learn how to use an established rubric instrument to evaluate mobile learning apps and identify those that are most suitable for teaching and learning
Have opportunities to use mobile technologies in a variety of different settings to understand how to modify the design of mobile learning pedagogies to suit the context. Experience the application of mobile fieldwork where participants  use their mobile device in a non formal setting to capture, analyse and synthesise data.
Gain a better understanding and awareness of the potential learning gains associated with virtual reality, augmented reality and mixed realities, using mobile devices
Experience and analyse examples of innovative and transformational mobile learning activities in formal and informal contexts.
Have the opportunity to design and construct their own innovative mobile learning activities with the support of experienced classroom practitioners and experts in mobile learning
Get supported with ideas and materials for contributing to sustainable professional development strategies in your own school
Gain the opportunity to join an international network of teachers and teacher trainers exploring the innovative use of mobile technologies
All delegates will have access to materials developed by the EU project DEIMP, including the app developed by the project providing the learning scenarios created by practitioners of the participating associate schools from various EU countries and participants of the online open course (MOOC) and other app users.
---
Click here for the General TELLConsult Course Terms (registration procedures, costs, cancellation, etc…)