Course Nr.: #5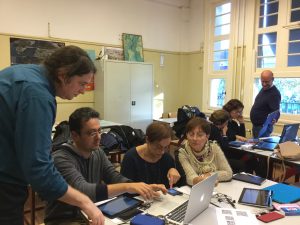 Target Groups
This course is designed for language teachers from all educational levels & sectors, beginners and pre-intermediate as far as ICT skills are concerned.
Dates/Venues
Amsterdam (Netherlands)
2020:  11-16 Oct.
Krakow (Poland)
2020: 26 April – 1 May (cancelled)
Course aims
The course is to support language teachers in developing ICT skills for language teaching and learning and to give them the knowledge of Web 2.0 tools designed for educational settings. The course is created to equip the participants with hands-on experience in ICT and to demonstrate the potential of new media and the Internet use in the language classroom. It reinforces the participants' digital competence and boosts their confidence as well as enhances teaching skills necessary to effective language teaching with ICT.
The course description below is indicative. The final day-to-day programme will be finetuned by the tutor teams responsible for editions in the locations mentioned on the basis of the analysis of intake data of individual groups.
Courses content
The course covers the following topics:
• Teacher's ICT kit – exploring Web 2.0 tools to organize teacher's work, save time and make school life easier. A review of the most essential and practical multimedia tools for teachers
• Writing –  introducing Web 2.0 tools to motivate students to write and develop their writing skills. Discovering online applications for creative and collaborative writing.
• Listening and reading – investigating Web 2.0 tools to develop students' interests in mastering reading and listening skills. Various websites and online resources with texts, podcasts and recordings.
• Speaking, vocabulary and games – researching online applications designed to develop students' speaking competence and confidence as well as to give them tools to learn and revise lexis. A lot of games making learning and teaching language enjoyable.
• Language teacher database – discovering and sharing numerous resources and ready-made recipes for your lessons. Plenty of materials to take home and use in your lessons.
* Web 2.0 Communication tools for three way communication
* Web 2.0 Creativity tools with words, visuals, words + visuals + sound
* Web 2.0 Collaboration tools for project management, co-creation and resource management
Methodology:
The course combines short introductions in the form of brief plenaries on the current methodological topics followed by presentations of related online applications, Web 2.0 tools, materials or activities. Then the practical work is done individually or in small groups depending on the needs and educational levels. Finally, the outcomes are shared and discussed.
Day-to-Day Course Topics
Day 1
Greet & Meet
Course overview
Cultural event
Day 2
General introduction to Web 2.0 tools in education
Setting up a digital platform for cooperation and storing materials
Web 2.0 tools to organize and manage classroom – why and how to use presented tools in our work
Presentations and tutorials of selected tools – Individual or group work with selected tools
Sharing results and discussion
Day 3
 Introduction to Web 2.0 tools to teach speaking, vocabulary and games
Presentations and tutorials of selected tools – why and how to use presented tools in classroom
Individual or group work with selected tools
Web 2.0 Communication tools
A short introduction into communication tools (three way of communication: 1 way/2 ways/multiple ways)
Individual or group work with selected tools
Sharing results and discussion
Day 4
Introduction to Web 2.0 tools to teach writing
Presentations and tutorials of selected tools – why and how to use presented tools in classroom
Individual or group work with selected tools
Web 2.0 Creativity tools
A short introduction into creativity tools (word/visual/word+visual+sound)
Discussion of didactic issues that require creativity tools
Individual or group work with selected tools
Sharing results and discussion
Day 5
Introduction to Web 2.0 tools to teach reading, listening and pronunciation
Presentations and tutorials of selected tools why and how to use presented tools in classroom
Individual or group work with selected tools
Web 2.0 Collaboration tools
A short introduction into collaboration tools (project management/co-creation/resource management)
Discussion of didactic issues that require collaboration tools
Individual or group work with selected tools
Sharing results and discussion
Day 6
Language teacher database – discovering and sharing numerous resources and ready-made recipes for classes
ICT-based lesson plans
Planning further cooperation
Course evaluation
---
Click here for the General TELLConsult Course Terms (registration procedures, costs, cancellation, etc…)