On October 10 we ran a workshop on latest trends in education in general and related developments in Computer Assisted Language Learning (CALL) in particular as requested by the LinkedIn network of Dutch freelance language trainers 'LTNW' (more info here).

On the basis of a needs analysis, extensive literature review and a couple of interviews with some leading practitioners we identified providing tailor-made content and related learning materials as a key issue in their practices and therefore came up with a major focus on a Corpus CALL approach combined with blending activities including the use of mobile devices for micro learning (MALL).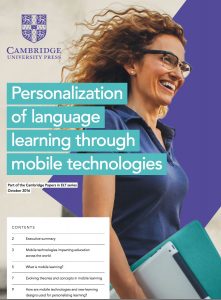 To also provide the participants with some opportunities for shared experiences with blended learning and instances of 'flipped activities' pre-workshop tasks included social reading of 'Technology-integrated English for Specific Purposes lessons: real-life language, tasks, and tools for professionals' by Nergiz Kern in 'Innovations in learning technology for English language teaching' (Motteram, 2013), video introductions
and (pre)knowledge sharing & collaborative writing.
For an impression of the day have a look at this photo album