PERIODS COVERED: 2019 -2018 (below) 2017 – 2016, 2015 – 2014 , 2013 – 2012 , 2011
2019 – 2018
Summary of my (project related) contributions to TELLConsult activites during the second half of 2019
Submitted by tonk on Sat, 01/11/2020 – 00:11
Find summaries of and references to our activities ((mainly related to project dissemination) over the past few months in this overview at TELLConsult's blog
And read more about our latest EramsmusPlus course on mobile learning.
Impact of Virtual Exchanges researched
Submitted by tonk
on Thu, 03/14/2019 – 14:36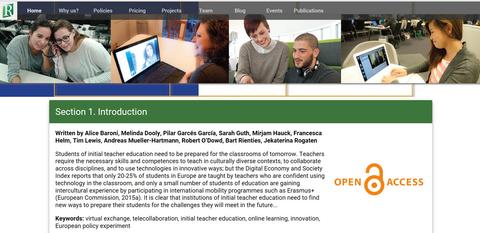 Today's tweet by @UNICollaboration:
here's a #virtualexchange gift for teachers and those involved in teacher training #teachingHE #impact #skills
Great to have the Evaluate report, the largest study of class-to-class virtual exchange to date which involved 25 virtual exchange field trials bringing together institutions of initial teacher education in 16 countries.
One of the statements in the conclusing comments (Section 8) is […] Many of the participants in the study reported coming from quite homogeneous societies and virtual exchange offered them their first experience of working in an international team. Participants reported building confidence and losing personal fears through the exchange, learning to negotiate with peers who have different opinions or ways of thinking, managing to see issues from different perspectives, and solving problems.
The teacher trainers also confirmed to us that participating in a virtual exchange provided their students with invaluable intercultural learning experiences as well as the opportunity for authentic use of their foreign languages. The teachers reported that the virtual exchange had impacted on their own professional practices by providing them with opportunities to collaborate with colleagues internationally, to innovate their classes and to improve their own teaching methods.
However, the study and its accompanying case studies also clearly show that virtual exchange is not easy to implement and that it requires teachers to be aware of the principles of good practice which have been outlined in the pages of this report. These include, for example, ensuring the integration and academic recognition of virtual exchange in their study programmes and overcoming the barriers which distance and technology can put up in relationship building through the use of videoconferencing
This triggered a trip down memory lane as this also echoed some of the reflections on our experiences (Koenraad & Parnell, 2005) in the EU project 'Professionally Networking Education and Teacher Training' (PRONETT) aiming to develop a regional and cross national learning community of pre- and in-service teachers and teacher educators supported by webbased resources and tools to collaborate and to construct shared understandings of teaching and learning in a networked classroom. This project took place some 15 years ago when concepts and products like CMS and LMS/VLE were still under development and we ventured to have a customised Zope/Plone-based environment developed from scratch.

Among retrospectively established pre-conditions and challenges for telecollaborative initiatives such as ICT tool user training and professional development including practice in procedures for collaboration and vital e-moderating functions and knowledge sharing options was also one on policy […] Another challenge will be to grow from being an unrecognized activity (invisible to the organization and sometimes even to members themselves) to institutionalized (= fully implemented, i.e. given and official status and function in (the partnership of) organization(s) (Wenger et al. 2002, p. 28).
Koenraad, A.L.M. & Parnell, J.D. (2005). 'Pronett. Networking Education and Teacher Training'. In Mohamed Chaib & Ann-Katrin Svensson (Eds), 'ICT in Teacher Education. Challenging Prospects. Jönköping University Press, Jönköping
And so I was left to ponder on how time flies but innovation in education apparently still has its own (good old?) rhythm 🙂
Summary of my (project related) activites during the second half of 2018
Submitted by tonk, on Sat, 01/12/2019 – 22:52
EUROCALL 2018 conference
In August we attended the annual EUROCALL conference and contributed a workshop on general educational design criteria for mobile learning, thus also sharing outcomes of the EU projects TABLIO and DEIMP .
We were also elected to be co-chair of the special interest group (SIG) on Mobile Assisted Language learning
More details on Blog TELLConsult

Start of CATAPULT project
In September we attended the kick-off of our latest successful project initiative CATAPULT (Computer-Assisted Training And Platforms to Upskill LSP Teachers) in Paris hosted by the coordinating parter Sorbonne University. More details on Blog TELLConsult
First follow-up action was to call on LSP teachers and trainers to contribute to a survey about Languages for Specific Purposes (LSP) aiming to identify potential needs in the professional training of teachers of LSP & discipline specific communication. More details on Blog TELLConsult.


Workshop for Corpus Linguistics conference


Also In September we attended the International conference 'Data-Driven Learning (DDL): a scaffolding methodology for Foreign languages and CLIL classes'
We contributed the workshop 'Production of corpus-based learning materials & activities for CLIL and LSP purposes' partly based on one of our ErasmusPlus courses  'Language and teaching skills for the bilingual classroom' 
Also shared the event with the CorpusCALL SiG:
To support workshop delegates at the International 2018 conference 'Data-Driven Learning (DDL): a scaffolding methodology for Foreign languages and #CLIL classes' in Turin https://ddlfl.weebly.com/ in finding and exploring potentially useful corpus-based tools & resources for the production of CLIL materials and learning activities TELLConsult developed and made this Padlet page available as OER: Data Driven Language Learning Resources (padlet.com)
We hope that workshop delegates, members of this community and other colleagues also active in this domain will help to further develop this resource beyond this conference event by adding comments, references to relevant missing or new tools, materials, research and reactions to questions users may ask.

Organisation of TABLIO Bootcamp

So requested we organised and started the publicity campaign
for the free 3-day course on differentiation with the help of tablets for the Erasmus+project TABLIO.
More details on participation here.

Promoting relevant CPD events


As co-organiser of the 2019 SIG event 'CALLmi Where are we going? Current and future trends in MALL and CALL' in Milan we started contributing to the related publicity campaign on social media and will submit a proposal for a workshop on design criteria frameworks for mobile learning.
More details on Blog TELLConsult.
We also started promoting the conference on Computer Assissted Language Learning in Krakow (Poland) organised by our partner in

the CATAPULT project and prepared a proposal for a workshop . More details on Blog TELLConsult

During the Xmas holidays we contributed to the update of TELLConsult's course offer including the latest addition on Dyslexia and EFL teaching thanks to our collaboration with an ex-colleague, the Dutch expert on this domain. Read more about TELLConsult course offer updated & expanded

We contributed to the impact report related to the research activities of the UK Open University
Submitted by tonk, on Fri, 06/15/2018 – 23:34
TELLConsult contributed to an impact document for the the UK Government audit of the research activities of the UK Open University referring to the relevance of the INTENT/Unicollaboration (platform, organisation and the research done by its partners) for the development and management of the related EU projects we initiated and participated in (Pronett, MiCALL, NIFLAR) and the publications these led to.
Activities overview first semester 2018
Submitted by tonk, on Sat, 06/30/2018 – 17:05
Most of my activies in this year's first semester were related to projects and (Erasmus+) courses TELLConsult is involved in, as usual.
After having sorted out the availability of international experts in our network during the Xmas holidays we could publish the updated offer of Erasmus+ international courses on ICT & Education early in January.



Then most of the remaining time that month was spent on supporting schools in the associate partner network of the DEIMP project in their efforts to submit their ErasmusPlus KA1 grant application to enable jobshadowing and collegial professional development on the innovative use of tablets in education.

In February we focused on the needs analysis for and customisation of a TELLConsult course on video in education to be run in March – in Valencia – as requested by the Italian Ministry of Education.
Also In March, invited by European Schoolnet, we attended the final conference of the MENTEP project in Brussels to get familiar with the results of the major, European Commission funded, policy experimentation projects. We also trialled and gave feedback on the newly developed online tool (TET-SAT) to self-assess teachers' educational technology competences.
In this period and on behalf of TELLConsult we also successfully developed proposals for papers and workshops enabling us to present outcomes & first results relevant for Teacher Education of the EU projects DEIMP and TABLIO at the 2018 EUROCALLConference. More info here
To conclude, in May and June, we attended the annual meetings of the projects DEIMP and REDESIGN held in Cyprus and Bucharest respectively.
For more details about these events and the projects mentioned see TELLConsult's blog posts.
Koenraad.info Koenraad.info/Publications Koenraad.info/Blog Archive EUROCALL.NL TELLConsult.eu/projects