The final meeting of the Tablio project in Palermo, Sicilly  on 21-22 March was kindly hosted by the Italian partner Cesie and concluded with a project team photo.
Main item on the event's agenda was the critical review of all results and outputs. This led to the main conclusion that 95% procent of what we had defined as outcomes in the project bid had materialised at this point in time.
This was celebrated with some cultural activities including a guided citywalk to the city's historical highlights and meals in restaurants with local dishes.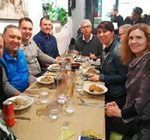 With 2 months to go a number of final activities were defined and allocated to all and some specific partners to make sure the team could be fully confidential about the presentation, accessibilility and quality of the deliverables and the final report documentation of all efforts towards dissemination, exploitation and impact.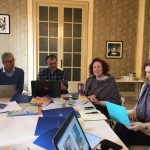 TELLConsult's representative used the weekend to both further explore Palermo's adjacent county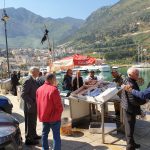 and prepare visits to the TABLIO associated partner schools so as to – if within reasonable distance- actually go there to thank members of the local teacher design teams for their contributions to the project such as feedback to the conceptmap, design principles and training materials and -above all – their action researched good practice documentation.